Farm Bureau Cares Trailer is used to serve volunteers harvesting for injured farmer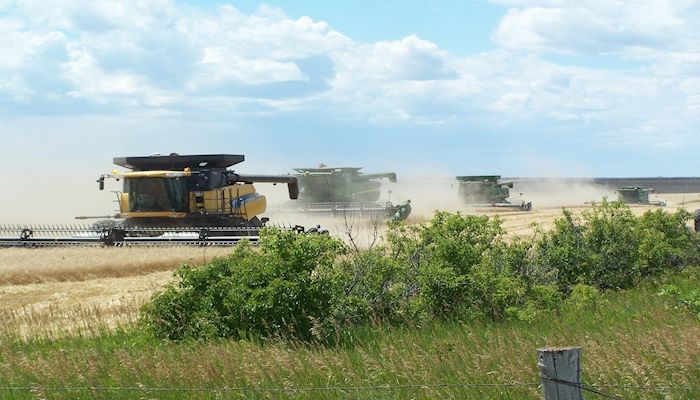 Farm Bureau Cares Trailer is used to serve volunteers harvesting for injured farmer
Farmers and ranchers from the Milesville, S.D., area recently came together to help community farmer, Mike Gebes, bring in his wheat harvest when he couldn't do it himself. Gebes suffered serious burns while helping put out a fire on a neighbor's land.
Over 70 volunteers with seven combines, numerous trucks, tractors, grain carts, and balers not only helped combine Gebes' wheat, but also baled and stacked the straw bales. The Milesville Fire Department was also on hand for the harvest, as a precaution in case another fire would occur.
Jim Harty, president of Haakon County Farm Bureau commented on how great it is to live in a community like theirs.
"It is the neighborly way to step up and help a neighbor in need," Harty said.
The community donated manpower and machinery and together, they were able to complete the wheat harvest in just one afternoon.
South Dakota Farm Bureau (SDFB) sent its "Farm Bureau Cares Trailer" for Haakon County Farm Bureau to use to grill burgers and brats for all the volunteers.
"It's nice to be part of an organization that cares for others," said Chad Hanrahan, SDFB Young Farmer and Rancher Chair.
The Farm Bureau Cares Trailer is outfitted with a large custom-made grill and is taken around the state to numerous events.
"SDFB was proud to be part of an event with neighbors helping neighbors," said Hanrahan.