Farm Bureau Donation Stocks Kitchens at Sioux Falls Ronald McDonald Houses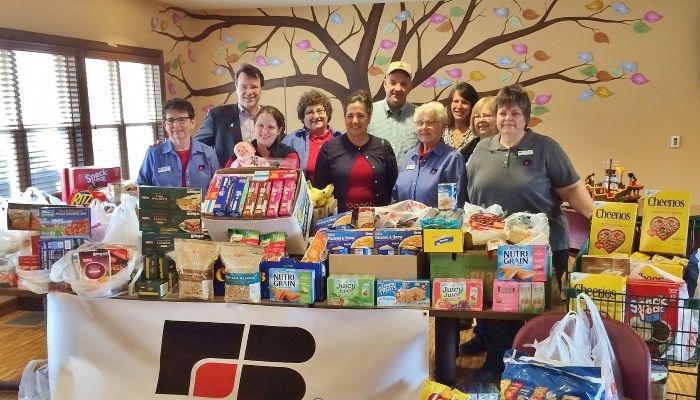 Farmers and ranchers who belong to the South Dakota Farm Bureau (SDFB) delivered $1,300 worth of groceries to the Ronald McDonald House in Sioux Falls on Tuesday, plus pledged to continue their support of fresh milk and eggs delivered weekly throughout the year.
Donations from county Farm Bureau organizations across the state made the grocery donation possible. In addition to the food delivered by the volunteers this week, both Sioux Falls Ronald McDonald Houses will receive weekly delivery of fresh milk and eggs throughout the year, courtesy of SDFB. Hy-Vee Food Stores in Sioux Falls helps coordinate the delivery of these items.
"It's our pleasure to help the families at the Ronald McDonald House in this way, alleviating the stress of meal expenses when they're already dealing with the illness of a child," said Cindy Foster, a farmer from Fulton, S.D., and Chair of the SDFB Women's Leadership Team, the volunteers who coordinated this project. "We're so glad we can continue the delivery of milk year-round as we have for the past four years, and the addition of eggs in those weekly deliveries this year will mean the refrigerators will be well-stocked with breakfast staples."
"With the support from the South Dakota Farm Bureau and all of the county organizations, Ronald McDonald House Charities is positioned to better serve the families that are receiving medical care while away from home," said Kevin Miles, Executive Director of the Ronald McDonald House Charities of South Dakota. "In 2015, we served 1,314 families and over 5,000 individuals, so the need is great and the support of South Dakota Farm Bureau is truly appreciated!"
The grocery donation to the Ronald McDonald House is South Dakota Farm Bureau's way to celebrate "Our Food Link," a program of the American Farm Bureau Federation that recognizes the safe, abundant and affordable food provided by America's farmers and ranchers. SDFB is also working with Rapid City Regional Hospital to put County Farm Bureau donations to work there to provide meals and snacks to families staying at the hospital.
The South Dakota Farm Bureau is the largest general ag organization in the state, representing more than 16,000 farm, ranch and rural families across the state. Visit the new website at www.sdfbf.org.