Farm & Ranch Conference to be held at South Dakota State University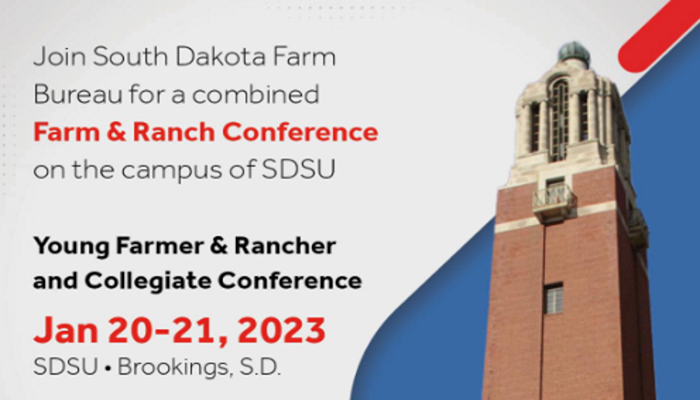 Young people involved in agriculture are invited to attend a one-day conference on the campus of South Dakota State University (SDSU) in Brookings, S.D., January 21, 2023. 
Members of SDFB Young Farmers & Ranchers (YF&R) Committee and the SDSU Collegiate Chapter are hosting the event. 
The conference begins with evening social activities on Friday, January 20. The agenda on Saturday, January 21 includes the opportunity to network with others involved in the agriculture industry and learn information that will be helpful in attendees' current or future operations. 
Tracks have been specifically designed for collegiate students and young producers.
A few of the topics scheduled on Saturday include sessions on markets, global production, ag prices, rural mental health and alternative income opportunities. The schedule includes the following topics and speakers: 
Global Production & Ag Prices – Shawn Hacket
Rural Mental Health 

– Jacob Walter

You Have a Job Now What – Gina Kuck
Finding Your Niche - Valerie and Jared Luhman 
Financial Skills - Laurie Johnson and Erin Yost
Alternative Income Panel - Regan Bieber, Kassidy Eisenbraun, Judge Jessop and Brady Wulf 
Registration fee is $50 per adult or $80 for a couple. College students can attend for just $25. 
For more information and to register visit:
https://www.sdfbf.org/Article/SDFB-Young-Farmer-Rancher-and-Collegiate-Conference.
You do not need to be a member of South Dakota Farm Bureau to register for this conference but will need to have an SDFB account. After clicking on the Event Registration button, you can log-in with your SDFB username and password. If you do not have an SDFB account, you can create one by clicking on the "Create an account" link.
If you have any questions about the event, please contact Lowell Mesman at Lowell@sdfbf.org or call 605-353-8050.