Leadership, Precision and Performance is Theme of 102nd Annual SDFB Convention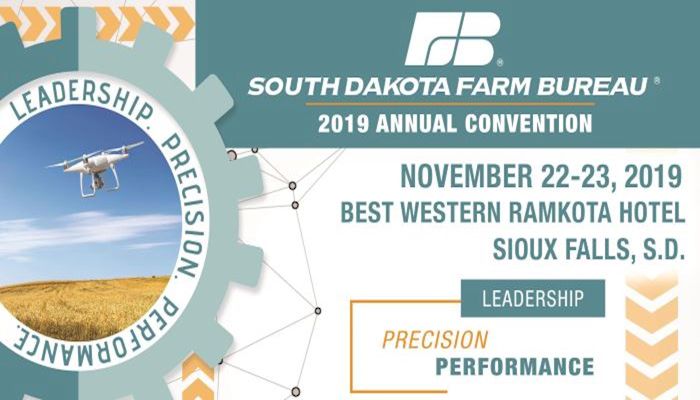 Make plans to join South Dakota Farm Bureau (SDFB) for their Annual Convention Nov. 22-23, 2019 at the Best Western Ramkota Hotel in Sioux Falls, S.D.
"Leadership. Precision. Performance." is the theme for the 102nd event.
The two days will include the annual delegate session to set policy for the upcoming year and full line-up of thought-leading speakers. New this year will be a technology fair featuring some of the latest technological advances in agriculture and related industries.
"Our members take great pride in our grassroots policy development process that is shaping South Dakota's future through the leadership and advocacy of members throughout the state," said Krystil Smit, SDFB Executive Director. "The SDFB Annual Convention combines legislative priorities along with speakers on trending topics in the industry right now."
Mike Pearson, Ag News Daily, will serve as emcee and will also provide a breakout session on crops and markets. Also scheduled to present a breakout session is Don Parrish, American Farm Bureau Federation senior director of regulatory relations.
Donna Moenning with the Center for Food Integrity and Amanda Blair, SDSU Extension Meat Science Specialist will headline a Friday evening discussion on traditional and alternative proteins.
Technology sessions will be presented by Dr. Dustin Oedekoven, South Dakota State Veterinarian; and Nick Jorgensen, of Jorgensen Land & Cattle.
A special highlight will be a Legislative Breakfast featuring Chris Cakes Saturday morning, followed by a discussion on weather trends by Brian Karstens of KELO-TV.
A complete schedule and online registration is available at www.sdfbf.org or by contacting the state office at 605-353-8050. To register visit https://www.eventbrite.com/e/south-dakota-farm-bureau-102nd-annual-convention-tickets-65132233263.