SDFB elects leadership and names award winners at 103rd Convention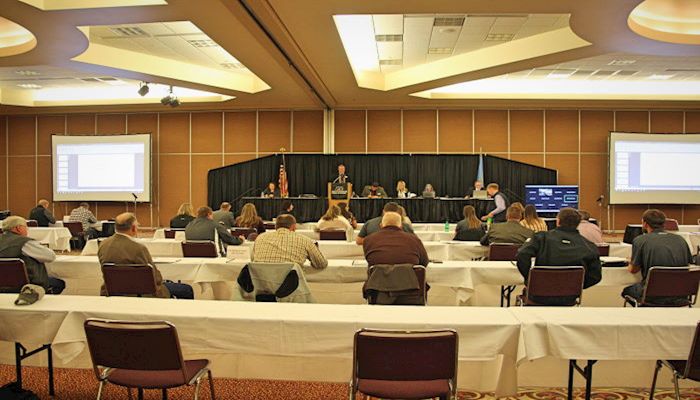 South Dakota Farm Bureau (SDFB) held their 103rd Annual Convention in Rapid City, Nov. 20-21, 2020. American Farm Bureau Federation (AFBF) President Zippy Duvall headlined the two-day event that included agricultural policy discussions, election of board leadership and special awards.
Jeffery Gatzke of Hitchcock was re-elected Vice President of SDFB, a position he has held since 2018.

Ronald Krogstad of Baltic, was elected to the SDFB state board representing District 2, filling the position of Michael Schmidt of Dell Rapids.
Roger Hainy from Wessington Springs was also elected to the state board representing District 7, filling the position of Lyle Nepodahl of Platte.
Jennifer Hurlbert was recognized for her year representing student members on the SDFB Board.
Kassidy Eisebraun of Wall filled the Women's Leadership Team (WLT) District 6 position, vacated by Mary Nelson of Phillip.
Wall Meat Processing / Red Rock Restaurant of Wall, Cammack Ranch Supply of Union Center and Dave Ollila were recognized as Friend of Ag award winners. This award is given in appreciation of the relationship between ag producers and agri-businesses.
The SDFB WLT committee honored Cindy Foster, Fulton, and Shawn VanderWal of Bruce, with the Anne Hunter Award. Named after the late Anne Hunter, the award honors women involved in SDFB.
The SDFB Young Farmers & Ranchers (YF&R) committee honored Julie King Fritzsche of Wessington, as the recipient of the Richard Kjerstad Friend of Young Farmer & Rancher (YF&R) Award. Fritzsche has been part of the SDFB state office for over 40 years.
Josh and Lin Sybesma of Platte were elected as the new chairs of the YF&R committee. Charles and Heather Maude of Caputa, were recognized as retiring chairs of the YF&R committee.
More information on SDFB can be found at www.sdfbf.org.
Photos are available upon request by contacting brenda@sdfbf.org or 605-290-8223.