Sanborn County 4-H Fairground Improvements Made Possible by South Dakota Farm Bureau Centennial Community Initiative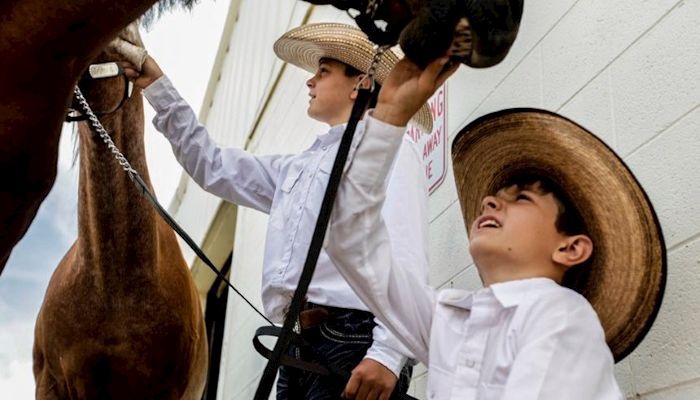 Sanborn County 4-H Members will celebrate improvements made at their fairgrounds on Monday, June 26 at Noon during the Sanborn County 4-H Horse Show at the fairgrounds in Forestburg, S.D. A newly built crows nest is the featured improvement, which is among the list of statewide projects funded through the South Dakota Farm Bureau Centennial Community Initiative.
"As our 4-H membership grows, so does our need for safer and more functional facilities in Forestburg," said Audra Scheel, SDSU Extension 4-H Youth Program Advisor. "A crows nest has been a need for some time. This will definitely make an impact for our current members, but also for the future of our program. We are really excited to have this great addition to the 4-H facility in Sanborn County."
Funding for the crows nest was made possible by a $2,500 donation from the South Dakota Farm Bureau combined with a $1,000 donation from the Aurora/Jerauld/Sanborn County Farm Bureau. The Sanborn County Fairground project is one of the first of several SDFB Centennial Community Initiative projects that will be announced in the coming weeks. The SDFB Centennial Community Initiative is a grant program for community projects that serve a need in a community, make a difference, have high visibility and reflect Farm Bureau's mission and vision. SDFB is investing $100,000 in local communities for community Improvement projects during its centennial year in 2017.
The project also includes aluminum bleachers and a new sound system. Additional funding was raised by a fruit sale fundraiser conducted by Sanborn County 4-H members as well as a memorial donation from the Hinker family of Sanborn County.
For more information about Sanborn County 4-H at visit www.igrow.org. More information about South Dakota Farm Bureau can be found at www.sdfbf.org.