South Dakota Farm Bureau Elects Leadership and Presents Awards at 104th Annual Convention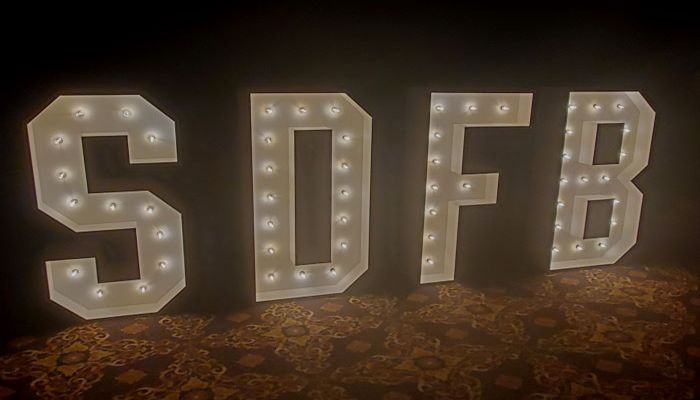 Scott VanderWal of Volga was re-elected President of South Dakota Farm Bureau (SDFB) during the SDFB 104th Annual Convention held recently in Sioux Falls. New state board members were also elected, and several awards were part of the two-day event.
VanderWal will begin his 18th year as president of the organization. He also serves as the Vice President of the American Farm Bureau Federation (AFBF). 
Clay Conry of Mud Butte, was elected to the SDFB state board representing District 5, filling the position of retiring board member Larry Stomprud of Mud Butte. 
Matt Smith of Hitchcock was appointed to serve on the state board representing agri-business members. Smith is a Territory Manager for CLAAS Farm Equipment. Mark Salvador of Sioux Falls was honored for his two-year commitment representing agri-business members on the SDFB board.
Shelby Ruland of Wall was appointed to the SDFB board representing student members. She is a junior at South Dakota State University double majoring in Agricultural Leadership and Political Science. Nathan Linke of Woonsocket was recognized for his past service as a student board member.
Bryan and Sarah Moes of Florence were elected as the new chairs of the Young Farmer & Rancher (YF&R) committee and will now serve on the state board. Joshua and Lin Sybesma of Platte were recognized as retiring YF&R committee chairs.
Several SDFB committee awards were also presented during the annual event.
The SDFB YF&R committee honored Rocky Niewenhuis of Corsica, as the recipient of the Richard Kjerstad Friend of YF&R Award. 
The SDFB Women's Leadership Team (WLT) announced the Anne Hunter Volunteer Awards, in memory of long-time volunteer Anne Hunter. Six women were named as winners of this award. Winners were Becky Aga, Clay / Union County; Mary Ann Hall from Deuel / Grant County; Janet Hurlbert, Clark / Day County; Kathleen Wieting, Beadle County; Sarah Veenstra, Douglas County and Heidi Zwinger, Minnehaha County. 
More information on SDFB can be found at www.sdfbf.org.
Photos are available upon request by contacting brenda@sdfbf.org or 605-290-8223.