South Dakota Farm Bureau Holds Events with Legislators in Pierre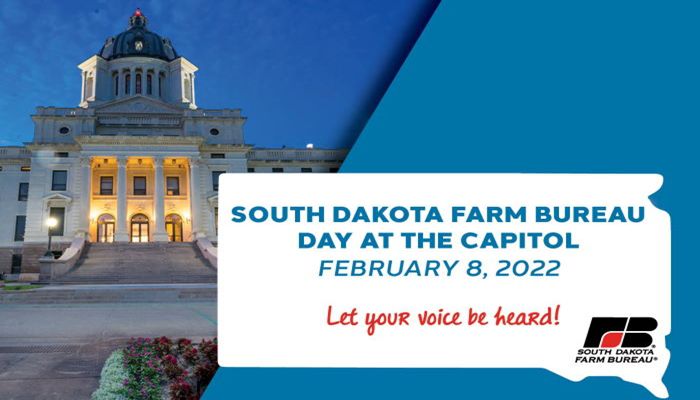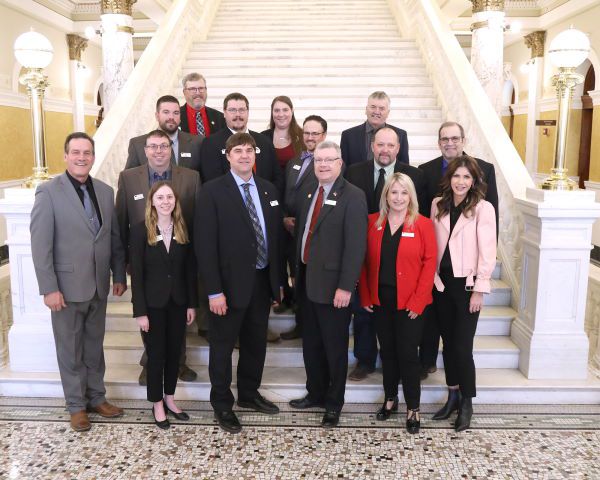 First Row - Lt. Gov. Larry Thoden; Shelby Ruland, Wall; Jeffery Gatzke, Hitchcock; Scott VanderWal, Volga; Krystil Smit, Lennox Gov. Kristi Noem.
Second Row - Matt Smith, Hitchcock; Scott Eisenbraun, Wall; Jerry Runia, Estelline.
Third Row - Nick Ihnen, Tulare; Bryan Moes, Castlewood; Sarah Moes, Castlewood; Clay Conry, Mud Butte; Ron Krogstad, Baltic.
Fourth Row - Roger Hainy, Wessington Springs.
South Dakota Farm Bureau (SDFB) members from across the state recently took part in SDFB Day at the South Dakota Capitol on Tuesday, Feb. 8, 2022.
 
County Farm Bureau leaders joined members of the SDFB board of directors and staff for a day full of committee meetings, discussions with Gov. Kristi Noem, Lt. Gov. Larry Rhoden and other elected officials.
 
"South Dakota Farm Bureau's grassroots members set the policy direction for the organization and having our members from all over the state at the Capitol for SDFB Day was very impactful and important," said Krystil Smit, SDFB Executive Director. "They had the opportunity to talk personally with their local legislators about policy priorities and also see the legislative process at work."
 
SDFB leaders from around the state served lunch to legislators on Farm Bureau Day at the Capitol, showcasing the role farmers and ranchers have in feeding our state, country, and world. The SDFB delegation was also formally introduced on the House and Senate floors. SDFB members Sen. Gary Cammack of Union Center and Rep. Roger Chase of Huron introduced the delegation to a standing ovation from legislators.  
 
"It is very important for us as legislators to have input on issues that we vote on," said Chase. "Having the SDFB delegation in Pierre was a great opportunity for some good discussion."
 
To learn more about the policy topics South Dakota Farm Bureau is following during the 2022 Legislative Session visit www.sdfbf.org and click on "Policy".