South Dakota Farm Bureau hosts Milbank meeting focused on progressive agriculture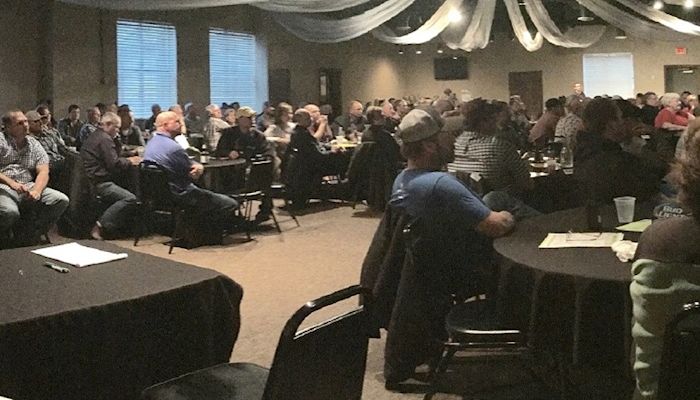 South Dakota Farm Bureau hosts Milbank meeting focused on progressive agriculture
Huron, S.D. (May 2, 2016) – South Dakota Farm Bureau (SDFB) drew more than 150 progressive agriculture producers to an April 26 meeting in Milbank, S.D., to talk about the importance of engaging in legislative and policy-setting activities which impact local counties and communities. Scott VanderWal, SDFB president and vice-president of the American Farm Bureau Federation, was a featured speaker during the meeting held at the Speedway Event Center.
VanderWal stressed the importance of advocating for production agriculture and its role in feeding the world today and in the future.
"An excellent crowd gathered to learn more about telling our story as farmers and ranchers to help non-farming neighbors understand the importance of agriculture to a local community," said VanderWal. "As a state organization, we urge people to get involved in this advocacy on a local level in order to make an impact on how our industry is perceived and also to be able to grow progressively in the future."

Attendees also discussed the proposed zoning changes in Grant County, which will be voted on during the June 7 primary. Many in attendance commented that they were unaware of the impacts the setback changes would impose, particularly on growth opportunities for existing livestock operations in the county.

"SDFB consistently stresses the importance of using good production practices in our agricultural operations to demonstrate to our city neighbors that we have an unwavering commitment to protecting the environment as well as to the health and wellbeing of our livestock," said VanderWal.
The event was hosted by the local Grant-Deuel County Farm Bureau. For more information, contact SDFB at 605-353-8050 or join online at www.sdfbf.org.