South Dakota Farm Bureau to Hold 103rd Convention in Rapid City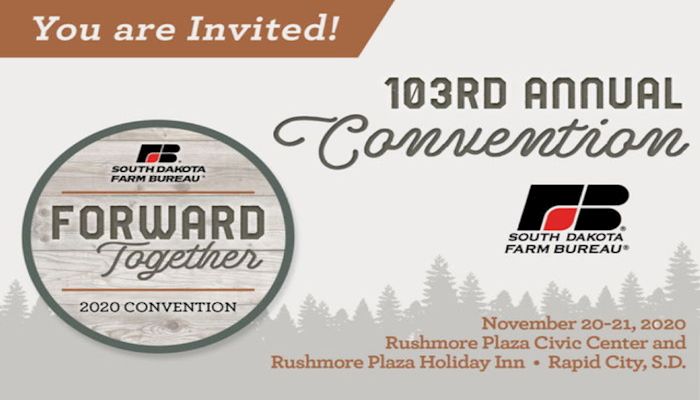 Forward Together is the theme for the 103rd Annual South Dakota Farm Bureau (SDFB) Convention, Nov. 20-21, 2020 at the Holiday Inn Rushmore Plaza and Rapid City Civic Center, Rapid City, S.D. Registration for the event is now open and available at www.sdfbf.org.
The two-day event will feature thought provoking speakers on issues facing the ag industry, emceed by Mike Pearson, farm broadcaster and market analyst. Headlining will be Corbitt Wall of Feeder Flash and Kathryn Miller of the IMB Cattle Company discussing issues impacting the beef industry.
The convention kicks off on Friday at 1 p.m. with delegate session. Delegates from County Farm Bureaus across the state will be discussing and voting on new policy for the upcoming year.
"Our members take great pride in our policy development process that is shaping South Dakota's future through advocacy, clearly demonstrating why South Dakota Farm Bureau is the trusted leader in agriculture," said Krystil Smit, SDFB executive director. "We are excited to be back in Rapid City to discuss how we can continue to move our industry forward."
On Saturday, Nov. 21 a property tax conversation will feature Lesley Coyle, with the South Dakota Dept. of Revenue, Rep. Kirk Chaffee of Whitewood and Michael Held with SDFB. Kaitlynn Glover of the Public Lands Council and NCBA Natural Resources will lead a private and public lands discussion. Additionally, Todd J. Janzen of Janzen Ag Law will present on environmental law and its impact on agriculture.
A complete schedule and online registration can be found at www.sdfbf.org.

(Photos of speakers can be obtained by contacting Brenda Dreyer, Director of Marketing and Communication for SDFB at brenda@sdfbf.org)