Update from SDFB President Scott VanderWal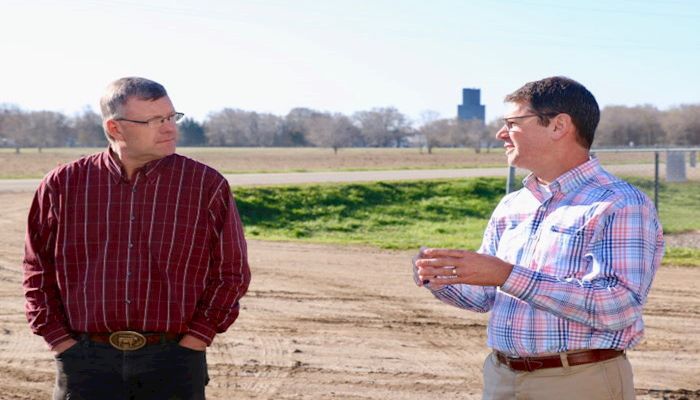 Last week many of you had the opportunity to join us for a phone call President Donald Trump had with Farm Bureau national, state, county leaders and staff during the virtual AFBF board meeting and Council of Presidents. This was an incredible honor for President Trump to take time to visit with Farm Bureau leaders and share important information on some of our priority issues. While it may have been a bit of a campaign speech, it is clear that he believes agriculture is extremely important to our national security and it is crucial for our industry to have that support from the top.
Last week we also had the opportunity to visit with Gregg Doud, who serves as the Chief Agricultural Negotiator, with the Rank of Ambassador, in the Office of the United States Trade Representative. He shared that we are on good pace with continual trade improvements to China but are lagging in trade with many other countries.
The Council of Presidents also heard from U.S. Interior Secretary David Bernhardt. He is doing an excellent job and is bringing some common sense to the Interior Department. Under his leadership they have achieved $5.9 billion in deregulatory savings and indicated that major reform is heading our way in grazing issues that are very important to our ranchers.
While I started out with a few positives I also wanted to share some struggles we continue to have. USDA has decided to NOT change the harvest date for forages planted on prevented plant ground for this year's harvest. This was a big win for producers last year but is not going to happen this year. We are disappointed USDA will not help producers who are experiencing this again, but we will be working for permanent changes to something like regional dates. The November date may work for Texas producers but is ridiculous for farmers and ranchers in South Dakota and other Midwest states.
I also wanted to update you on the AFBF national convention. AFBF is still working on how to handle this issue and will be communicating the decision soon. We are scheduled to be in San Diego, CA this year, and we don't yet know if any meetings will be allowed there in January.
We often hear of the many negatives that have developed since the Covid-19 crisis has and I want to share a few positive impacts to South Dakota Farm Bureau.
The many calls, webinars, Zoom meetings and frequent electronic newsletters are all increasing communication to our members. During all of this uncertainty it is very important to keep people informed. Please plan to take part in an upcoming webinar series titled "Pasture to Plate". This series will bring experts in beef and cattle marketing to help us have a better understanding of the food supply chain. This series starts on July 23. More information can be found at https://www.sdfbf.org/Policy-Advocacy/Pasture-to-Plate-Program .
While Dakotafest has been cancelled, a couple of virtual forums will be taking place during August 18-20. More information about those will be communicated shortly.

The South Dakota State Fair is still scheduled to happen this year in Huron, S.D. It may look a bit different, but SDFB will be there in full force beginning with honoring Century Farm and Ranch families on Thursday, Sept. 3. SDFB will once again be on the west end of Farm Bureau Ave. with free ice water and a chance for fair goers to learn more about the many benefits of belonging to SDFB. The Women's Leadership Team is also holding a scavenger hunt for attendees to take part in this year.
Finally, I want to remind all of you to pray for our nation. We have seen a lot of unrest and frustration in the last few months and we must remember to keep those in authority and those who put themselves in harm's way in our prayers. And as the election draws near, we are truly in a struggle over the direction of our great country. We cannot endorse candidates, but please look at the issues and how each candidate stands on those issues. The choices are very clear.