West River Reporting Favorable Weather, Low Disease Pressure for Calving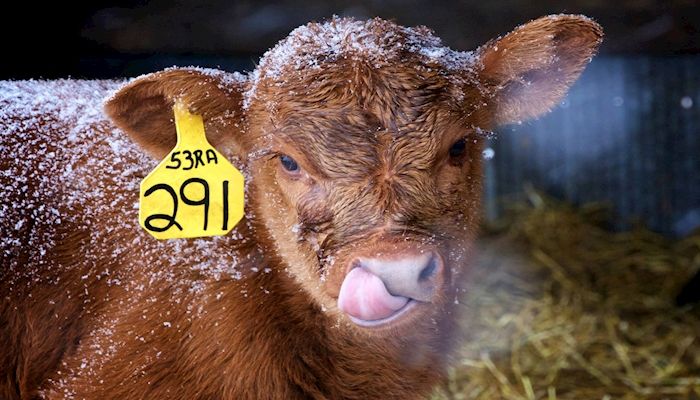 Despite the occasional spring snow squall, West River calving reports are coming in positive due to the overall favorable weather and no out-of-the-ordinary disease reports.
"Most stories I've heard are very positive," said Ken Olson, SDSU Extension Beef Specialist at the West River Ag Center in Rapid City, adding that he's not hearing any reports of weather-related calving problems. "Reports coming in are good."
Many cattle herds are on the downhill side of calving, according to Olson, observing that "cows seem to have bred up early last year."
Wanda Blair of Vale, S.D., agrees that things are progressing well. She reports a positive calving season for her family at Blair Brothers Angus, north of Sturgis. "It's been beautiful weather for calving," she commented. "We've had a fairly good calving season."
Blair says their first-calf heifers are done, and overall they are past the half-way point of calving.
There are reports of trichomoniasis in several South Dakota counties, and some concern about rabies being contracted by cattle, but Blair says she is not hearing reports in her community of these issues.
Olson believes the number of trich reports in South Dakota this year falls in the "typical" category. He adds that trich is a "never-ending problem," one you almost always hear about being present somewhere.
"It's going to be a challenge to clean up. Until we get everyone understanding what they need to do, it's going to be an ongoing concern," Olson says.
He urges proactive steps to eradicate trich, starting with knowing the health history of your bulls. "Test every bull and cull every one that fails the test. Trich could be taken care of quickly if everyone took it seriously," Olson commented.
Despite reports of an increase of cattle being infected with rabies in states farther south, such as Kansas, Olson said he has not heard any reports locally. "Rabies is a low-level risk, but it's always going to be around because it's part of nature."
Olson notes that the wildfires in Oklahoma and Kansas are on people's minds. After living through something like the Atlas Blizzard, people remember the help that came from afar. "It's still pretty fresh in their minds," Olson says.