Farm and Ranch Families Honored at South Dakota State Fair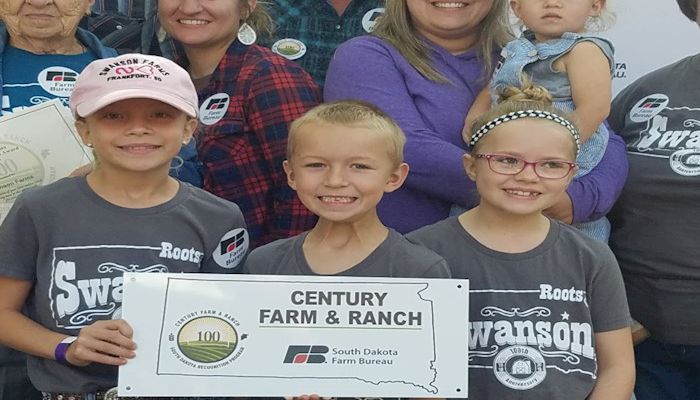 Eighty-nine farm and ranch families who have owned their land for a century or more were honored at the 2018 South Dakota State Fair, receiving a Century Farm & Ranch or Quasquicentennial Farm & Ranch award from the South Dakota Farm Bureau (SDFB) and the South Dakota Department of Agriculture (SDDA).
This year, sixty-two families were honored with the Century award for 100 years of ownership and twenty-seven were honored with the Quasquicentennial award for 125 years of family ownership. The award ceremony was held at the fair on the Farm Bureau Dakotaland Stage. Each family in attendance had the opportunity to say a few words about their farm or ranch as they were presented their award by Scott VanderWal, SDFB President and Dustin Oedekoven, Interim South Dakota Secretary of Agriculture.
"This event carries on a long standing tradition of celebrating families who are a true example of dedication, perseverance and what makes South Dakota great," said VanderWal. "I personally always enjoy hearing the stories from these families about their accomplishments. SDFB is proud to continue this partnership with the South Dakota Department of Agriculture to host this celebration at the South Dakota State Fair."
Since the program began honoring families at the state fair in 1984, South Dakota Farm Bureau and the South Dakota Department of Agriculture have recognized approximately 2,859 farm and ranch families with these awards. At least 80 acres of the original land must have been continuously owned by the same family and they must be able to provide documentation of the original date of purchase to be eligible.
More details about the program and photos of this year's Century and Quasquicentennial recognitions can be seen on Farm Bureau's website, https://www.sdfbf.org/Get-Involved/Century-Farms.
To see a map of the Century and the Quasquicentennial Farm/Ranch recipients, go to http://sdda.sd.gov/office-of-the-secretary/century-farms/.
More information about South Dakota Farm Bureau and the Century Farm program can be found at www.sdfbf.org.
2018 Honorees – Century Award (100 years)
| | |
| --- | --- |
| NAME | COUNTY |
| Donna Haeder | Beadle |
| Mary & LeRoy Jerke | Bon Homme |
| Robert Jerke | Bon Homme |
| Kenneth R. & Diana D. Mach | Bon Homme |
| Rodney Stormo Etal | Brookings |
| Rodney Greve | Brookings |
| Darlene Wilder Langum/Thompson FF | Brookings |
| Agnes Piskule | Brule |
| William Henry Stoll | Buffalo |
| RB Farms LLC / Ron Barkley | Charles Mix |
| Rebecca Hermanek Scott | Charles Mix |
| Fred & Pamela VanGilder | Clark |
| Mark D. Nelson | Clay |
| Lynn & Lana Waege | Codington |
| Lyle & Julaine Busch | Day |
| B. Travis Hughes | Day |
| Douglas L. Gantvoort | Deuel |
| Merle Wendelin Leibel | Dewey |
| Linda Kay (Peterson) Batteen | Edmunds |
| Harlan & Stella Buechler | Edmunds |
| Darrell & Sylvia Davis | Edmunds |
| Doris Heilman | Edmunds |
| David & Rita Pettigrew | Edmunds |
| Roland & Donna March | Fall River |
| Steven Wood | Faulk |
| Melvin & Margaret Swenson | Grant |
| Tom Bailey | Gregory |
| Frances Eide | Gregory |
| Mary & Clark Horn | Gregory |
| Barbara J. Sattler | Gregory |
| Gerald, Diane & James Smith | Gregory |
| Randall A. Neuhauser | Haakon |
| Dale D. Harvey | Hand |
| Douglas & Carol Adams | Hanson |
| Blanche Bosteder | Harding |
| William J. Adams | Hutchinson |
| Dennis & Jodi Fuerst, | Hutchinson |
| Orville & Dorothy Huber | Hutchinson |
| Allard Ranch | Jackson (Washabaugh) |
| Amy Fridley | Kingsbury |
| Arnold & Illdena Poppen | Kingsbury |
| Phillip, Steven, Malenda & Cynthia Fett | Lincoln |
| James & Katie Westra | Lincoln |
| Atkinson Family Trust | Marshall |
| Charles Behnke Family Trust | Marshall |
| Chan A. Benda | Marshall |
| Royal & Loren Jerde | Marshall |
| Stuart Brende | Minnehaha |
| William and Cecelia Steen | Pennington |
| Martin & Marian Andersen Jr. | Sanborn |
| Richard Bechen | Sanborn |
| Jan Houghtaling | Spink |
| JoAnn Thomas Pederson | Spink |
| Ruth Swanson Living Trust | Spink |
| Linda (Tjaden) Burri | Turner |
| James A. Otten | Turner |
| Joann K. (Ericson) Hedeby | Union |
| Craig Arbach | Walworth |
| Donald Kirschenman | Yankton |
| Harold & Jan Klimisch | Yankton |
| Myron R. Eliason (2) | Ziebach |
2018 Honorees - Quasquicentennial (125 years)
| | |
| --- | --- |
| NAME | COUNTY |
| Wayne Keizer | Aurora |
| Dennis & Maxine Namminga | Bon Homme |
| Rehurek Family Farm %David Vellek | Bon Homme |
| Paul H. Dennert | Brown |
| Todd Hanten | Codington |
| John & Charles W. Jones | Davison |
| Dwayne Gorder | Deuel |
| Willard Bialas | Douglas |
| Steven Wood | Faulk |
| Keith & June James | Hamlin |
| William J. Adams | Hutchinson |
| William Gossett | Hyde |
| Roger Wurts | Hyde |
| Matthew Field | Kingsbury |
| Darlene Geyer & Sharon Nuttbrock | Kingsbury |
| Bill Thurow | Lake |
| Duane & Thresea Wright | Lake |
| Mavis Stearns % Craig Stearns | Lincoln |
| Gary & Carol Stensland | Lincoln |
| Ralph Erickson / Joanne Tieman | Minnehaha |
| Jean Hammer | Minnehaha |
| Wayne & Patricia (Dean) Johnson | Roberts |
| Peter & Carole Vergeldt | Roberts |
| Lyle & Diane Hoellein | Spink |
| Ofstehage Living Trust/Bernard & Glenda | Union |
| Tim & Becky McManus | Yankton |
| Don Richelieu | Yankton |