Benefits Category
Financial
Fair Tax Inc-Sioux Falls
provided by
Fair Tax Inc
30% discount on all tax preparations; excluding business returns.

Farm Bureau Bank
provided by
Farm Bureau Bank
Farm Bureau Bank has built its entire existence around the lifestyle and needs of farmers and ranchers across America. Here to help grow traditions, give back to agricultural communities, and offer financial convenience for your unique way of life, Farm Bureau Bank is committed to serving you.
Proudly serving Farm Bureau members with benefits such as:
High-Earning Deposit Accounts

Personal & Business Credit Cards

spend $20,000 annually and FB Bank will pay your SDFB Membership Dues for you

Pay your FBFS insurance premiums with this card and get double points

Vehicle & Equipment Loans

Business Banking

…and more!
Banking services provided by Farm Bureau Bank, FSB. Farm Bureau, FB, and the FB National Logo are registered services marks owned by, and used by Farm Bureau FSB under license from, the American Farm Bureau Federation.

Reward for Theft or Arson
provided by
Farm Bureau Financial Services
When a South Dakota Farm Bureau member is a victim of arson, theft, or vandalism, SDFB offers:
a $1,000 reward for information leading to the arrest and conviction for arson
up to $1,000 for the theft of or vandalism to property owned by a SDFB member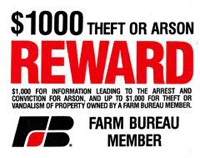 Accidental Death Coverage
provided by
Farm Bureau Financial Services
South Dakota Farm Bureau offers a benefit coverage in the case of accidental death.  If any accident, except one occurring on a public road or highway and arising out of the occupancy or use of any motor vehicle, which occurs while the person is insured under this policy shall, independently of all other causes, cause death within 90 days of the date of the accident, the company will pay:
Named Member -- $2,000
Spouse (in same household) -- $2,000
Unmarried children (under age 24, residing in the same household) -- $1,000
Coverage is dependent upon payment of the required County Farm Bureau dues.  You receive this coverage automatically upon paying your membership dues; it is from South Dakota Farm Bureau, not Farm Bureau Insurance.
Request for funds must be submitted within 90 days from the date of the accident.

Exceptions: this policy does not cover death resulting directly or indirectly from one or more of the following causes: (a) suicide, whether the insured be sane or insane; (b) military or naval service in time of war, declared or undeclared; (c) war, whether declared or undeclared, riot or insurrection; (d) the committing of an assault or felony; (e) illness or disease or medical treatment for either; (f) food poisioning, bacterial poisoning or infections, except infections occurring in consequence of an accidental wound.

Farm Bureau Financial Services
provided by
Farm Bureau Financial Services
Work with just one Farm Bureau agent and one company you can trust. Farm Bureau Member's Choice can help you protect your home, vehicles and other property with only one deductible per occurrence or accident, no matter how many covered possessions are involved. 
Business
Whether your needs are related to a home-based business, business succession or retirement strategies, estate preservation or executive compensation, Farm Bureau has products and services to help protect you and your business now and in the future. Click 
here
 to learn more. 
Farmers
You need to protect your crops, livestock and other commercial agriculture investments as well as your property, family and employees. Consider the value of one agent and one company you can trust for all your personal and business needs. Click 
here
 to learn more. 
Investments
Taking responsibility for strengthening your financial portfolio is an important task, and generally involves more than simply establishing a savings account. To learn more about developing your own strategy for investing, Click 
here
 to learn more. 
Life's Events
Life's events are often milestones that change your life. Some are joyous such as getting married, having a baby, starting a business or nearing retirement. Others are difficult such as caring for an elderly parent or losing a spouse. Consider what you need to financially protect the people who count on you. Click 
here
 to learn more. 
Personal
With a variety of personal insurance products designed to protect your property, life, health and estate, look to your local Farm Bureau agent to simplify your life while making sure you have the coverage you need. Click 
here
 to learn more.  

StoneX
provided by
StoneX
StoneX offers exclusive discounts to South Dakota Farm Bureau® members on agricultural price risk management tools.  This includes customized commodity marketing plans, powerful data management solutions, financial execution products, market insights and education.