YF& R Farm & Ranch Conference
YF&R Farm & Ranch Conference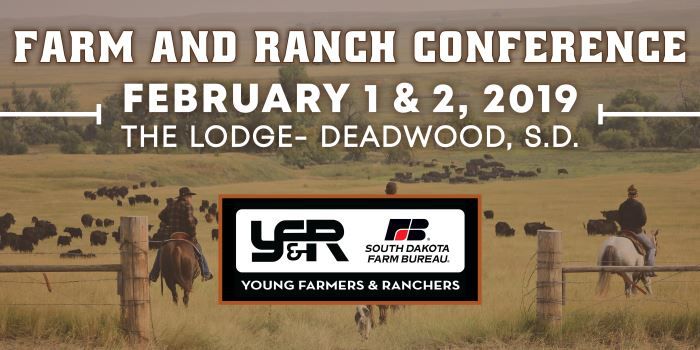 2019 Farm & Ranch Conference to be Held
Join South Dakota Farm Bureau Young Farmers & Ranchers for the Annual Farm & Ranch Conference February 1 & 2, 2019 at The Lodge in Deadwood, SD. Learn helpful, new information for your farm or ranch, while networking with other farm and ranchers your age. This event is family-friendly and day care is provided free of charge. Farmers and ranchers of all ages are invited to attend.
Please click here for a printable agenda
Click here for Registration and Hotel Information
The two days will include speakers soil health pioneer, Gabe Bgrid-xn sharing "Regenerating Our Resources" and a discussion panel regarding "Protecting Your Assets". You will also be provided the opportunity and transportation to the Black Hills Stock Show and Rodeo!
The SDFB Young Farmers & Ranchers (YF& R) program is designed for young people in agriculture ages 18-35. YF& R's mission is to involve young producers in educational programs that increase knowledge, develop leadership skills, and positively impact agriculture as a whole.
For more information contact: Lowell Mesman, SDFB YF& R Coordinator (605) 280-1319 or Riley Schwader, SDFB YF& R Chairman (605) 579-0171.